Top Tip Tuesday
is inviting folks to strut their button stuff!
I made this fun little baby card to use for a gal at work who is expecting a boy, but really the soft colors could work for a little girl too. :)
The card base is from Amuse, the image is from PTI, and the blue paper is scrap left over from a class I took a few weeks ago. hee-hee! You know I love my scraps. :) Hope you join us over at
TTT
. If you join us, you could win what's listed below:
Prize 1
Stash Books
Prize 2
Simon Says Stamp $20 GC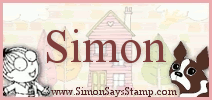 Featured Tipper Prize
Pizzazz Aplenty
So head over and check out the challenge and get more info on the prizes! See you there. :)
.