It's another
Tip Top Tuesday
!
So this week
the challenge is to use multiple folds
. Wait, you don't see that here on this get well card?!? Oh yeah, that's 'cause I'm a little tricky like that. :)
I put the other folds inside the card by using an envie to hold some packets of tea inside the card. I thought this would make a good gift card for a sick friend. Can you believe that with only 11 days left of school we have a strep throat outbreak????? Seriously! It's running around tagging some kids a teachers in the rooms I work in at my school. Wacky I tell ya, wacky. Lucky for me I don't get strep (knock on wood). I'm one-ah those oh-so-nice folks who is a carrier not a catcher. LOL! But I digress...
I promised a pick of the new 'do! Told ya it was short! I've got 6 mini ponytails to send to Pantene where they will combine them with 5 other big ponytails to make someone a great wig. I'll talk more about that later (and show pics of just how short it is in the back- seriously it's more short than you think). ;)
This week Heike created a fantastic tut over at
TTT
to go with the Multi-fold theme. Add your creation to the mix and you could win one of these great prizes below:
The Crafty Pad
Prize - 2 Digi Images


Debbie at The Crafty Pad Stamp Designs said:
The Crafty Pad Stamp Designs is proud to sponsor Top Tip Tuesday. I own and run The Crafty Pad Stamp Designs.
We offer a variety of both polymer stamps and digi stamps. Weekly challenges are held at The Crafty Pad Blog.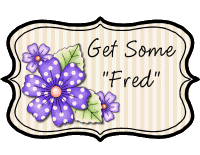 Fred She Said Designs offers a wide variety of digital products with a floral flair and cute characters too - Digi's, Pre-coloured images, Papers, Sets, and Fred's Flower Kits. Have some fun with Fred!
See you over there!